Crack password protected excel sheet. How to Open a Password Protected Excel File if Forgot Password 2019-02-25
Crack password protected excel sheet
Rating: 4,4/10

1033

reviews
How to Crack Excel Worksheet Password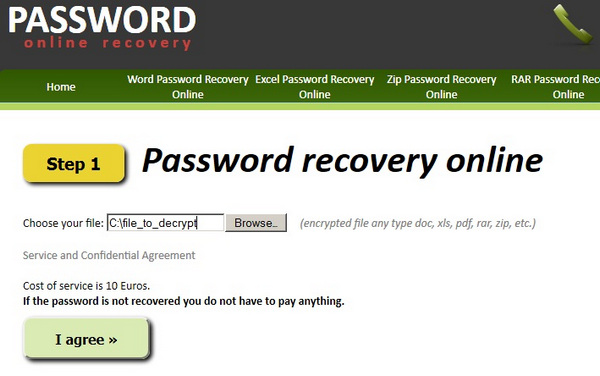 If you have created a password dictionary, select the Dictionary tab and click Select Dictionary button, then navigate to the path to your created dictionary text file and load it into the program. Now change the extension from. It will discover all character combinations until recovering your password. Download , install and launch it. It is because Microsoft introduced the Single Document Interface in Excel 2013, where each workbook has its own top-level window that can be minimized, restored, and closed.
Next
How to recover lost worksheet protection password in Excel?
If don't know or remember any thing about the password for your Excel file, choose the Brute-Force, which will try all the probable combination to recover password for you. Open Control Panel and Select Folder Option. User-defined: If you know exactly what character your password contain, use this option. That means nothing can go wrong accidentally, and your data is always kept secure. Unfortunately, there is no way that we can view or recover what your lost password is. For example, if you can recall any part of password clue and provide exact information, like password length, , range, lowercase and uppercase letters, numerals, and special characters, then mask attack would be the best choice for you. If you got a good dictionary.
Next
How to Recover Password from Excel 2017/2016/2013/2010/2007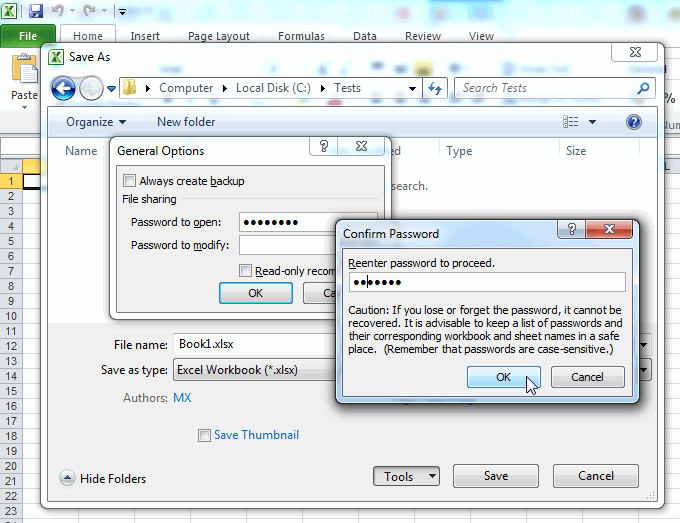 Open the sheet in a text editor. Modern versions of Excel, such as Excel 2013 and 2016, use advanced encryption techniques which make brute-force methods used by most password crackers virtually useless due to how long the password can take to crack anywhere from weeks to years depending on the password strength. If you need to edit a password protected sheet but you cannot remember the password, try to unlock that Excel spreadsheet by using one of the following methods. The Code in this page is a very good learning to know how exact password is not used to lock your sheet. The tutorial shows how to protect Excel sheet with or without passwords. Purchase an Excel password cracker. This article was co-authored by our trained team of editors and researchers who validated it for accuracy and comprehensiveness.
Next
[SOLVED] How to open a Password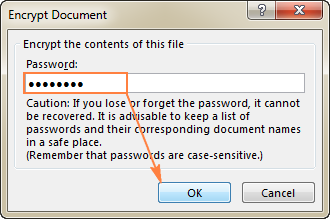 You could try wit Advanced Excel Password Recovery, should work with most Office documents. About the Author Alan Sembera began writing for local newspapers in Texas and Louisiana. Save the file and Close. Open a password protected excel file without password The Office Password Remover only works for. To remove the password protection, repeat the above steps, and delete the password s from the Password to open and Password to modify boxes. This code will generate alternate password combination to unlock the sheet. Read and choose the appreciate way to unlock your Excel file.
Next
Unprotect an Excel spreadsheet if you have lost your password
If the worksheet was not protected with password, clicking the Unprotect Sheet button is all it takes to unlock the sheet. A common example is Locking formula cells to prevent inadvertent erasure or modification of formulas. Because it has attracted low-quality or spam answers that had to be removed, posting an answer now requires 10 on this site the. Step 5 Save your modified xml file. Do not use it to on Excel Files that you are not authorized to open. We always set passwords to protect some important worksheets from being destroyed or modified by others. Only hash table is used.
Next
How to crack an Excel password without any software
So without wasting time on any other method or any other internet page, just start using Password Recovery Bundle to get a guaranteed no data loss result. Unzip the content from the zip file now. If your password is complicate, and you don't remember any thing about it, select Mask, which will try all the printable characters in all combinations. I'm really sorry to hear that you've lost the password to your protected Excel document. Locate the password protected Excel file and click the file to import it into the program. I used it on Excel 2010 and it works.
Next
How to crack an Excel password without any software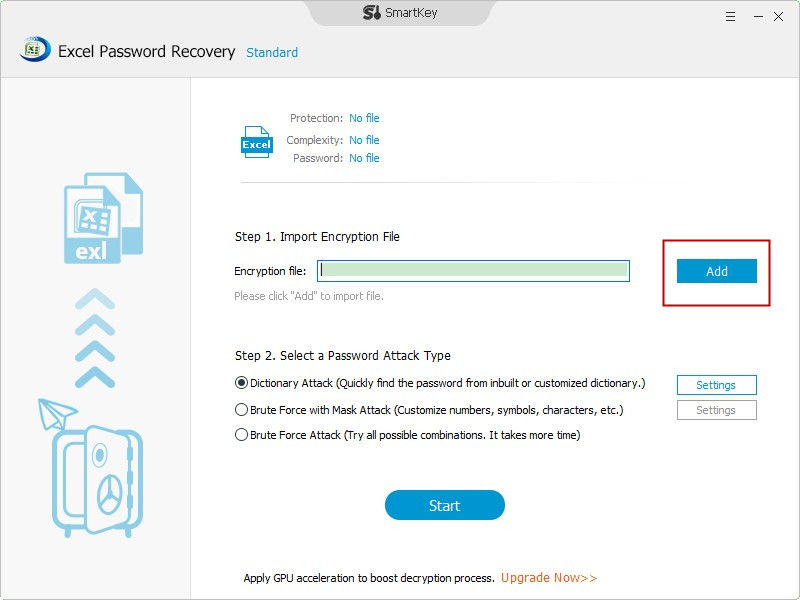 Select all the data on the sheet that needs to be unlocked. This entry was posted in by How to Unprotect an Excel Spreadsheet if you have lost your password. How to remove password from excel spreadsheet or Unprotect Excel Spreadsheet without using any software or Password Remover. Excel software on your computer, launch it! This usually makes it more secure than simply storing the password as a string to compare against. Excel sheets are often used to create databases which stores the most valuable information about any aspect.
Next
How to Unlock Protected Spreadsheets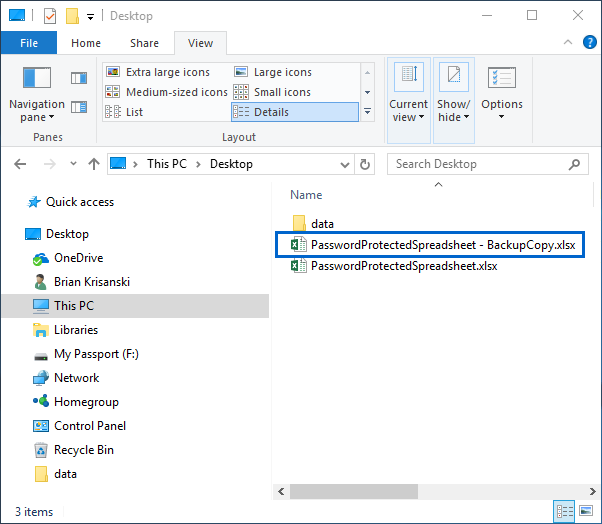 That's why we need a Excel password cracking software like Androidphonesoft. If it is Excel 2016 it would be very hard to crack the password. Unfortunately, there is no quick and simple way for your to view or recover a lost password. Step 2: Select one password attack type. Understand that it may be impossible to crack the password. I tried writing a password cracker code similar to the code I used to crack Excel sheet's password But I am not sure if I am doing correctly or not - when i tried this code it prompted me for password but no password was entered to the text input box. Tips: If you choose all characters options, it will definitely increase the possible combinations, so it will take much time to attack a simple password likes 123456.
Next
How to Recover Password from Excel 2017/2016/2013/2010/2007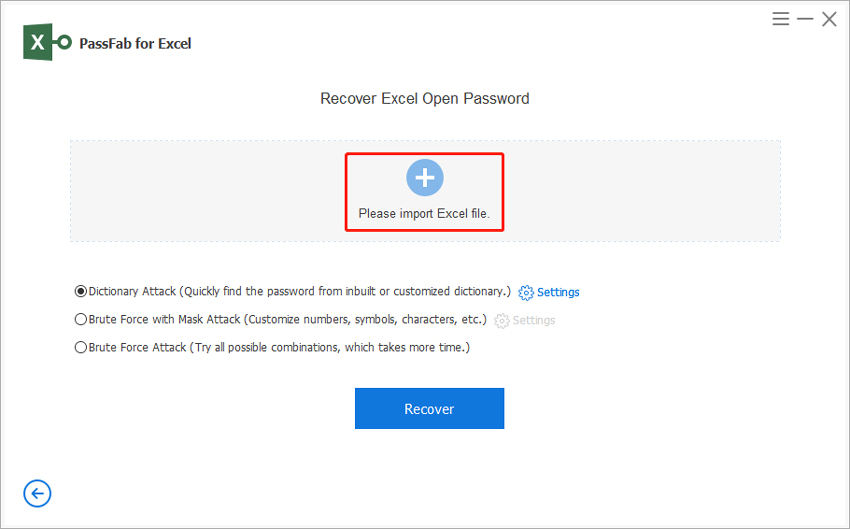 However, sometimes you may not want to go that far and rather lock only certain cells in your sheet. All digital 0 - 9 : 0123456789. Navigate to the location of your locked Excel file and add it into this program. Click on the Open or Add file button, and them select the Excel file to import it into the program. Thank you for the shout out, Daniel! What's to do if the Excel is restricted for editing? This is how you can protect an Excel sheet and lock the entire workbook from changing or opening. Open your Excel workbook with the encrypted password If you forgot protected password to open.
Next
Unprotect an Excel spreadsheet if you have lost your password
Then click the Save button to save your workbook. Wait a few minutes, password will be displayed in a popup windows. If you want to protect your Excel file both from modifying and opening, type the passwords in the Password to open and Password to modify boxes. In case of a password protect worksheet you are unable to Edit the data on the Excel Sheet. The Windows option is not available greyed out in Excel 2013 and Excel 2016, as shown in the screenshot above.
Next